Septima Clark – By Grace M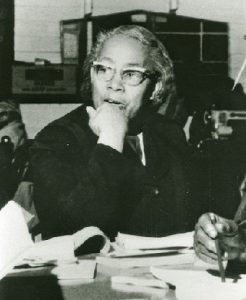 We all know Rosa Parks and Martin Luther King Jr., but people like Septima Clark made a difference too. Septima Clark was an educator and a civil rights activist. The racial discrimination she faced made motivated her to fight for racial equality.
Clark was born May 3, 1898 in Charleston, SC. In 1916, she finished twelfth grade eager to go to Fisk University but was not able to afford it. Instead, she took a test that gave her the right to teach in rural areas. As an African-American, she was forbidden to teach in Charleston public schools, so she got her first job on John's Island. There she realized the pay for people of color was lower than salaries for white people. This made her motivated to make a difference.
In 1919, Septima left John's Island to create a campaign in Charleston to allow black teachers to teach in Charleston public schools. A year after protesting, the law was passed and she moved to Columbia, SC. There she had the opportunity to teach for 12 years. In 1942, she received a bachelors degree from Benedict College and a masters degree from Hampton University in Virginia. During this time she helped out with the NAACP. She also worked with the Southern Leadership Christian Conference (SCLC) and other organizations to create the Voter Education Project, which allowed more African American teachers to teach. In 1970, she retired from the SCLC. In 1979, she received a Living Legacy award. After that, she moved back to John's Island and died in 1987.
Septima Clark made a strong impact on the rights of African American educators. She made a difference by taking charge not only for herself but for other people too. Her impact has made a difference in our world today.
Troop 48's juniors hope you enjoy the rest of our website. Thank you for reading!
"Septima Poinsette Clark (U.S. National Park Service)." National Parks Service, U.S. Department of the Interior, www.nps.gov/people/septimapoinsetteclark.htm.
Britannica, The Editors of Encyclopaedia. "Septima Poinsette Clark." Encyclopædia Britannica, Encyclopædia Britannica, Inc., 1 May 2018, www.britannica.com/biography/Septima-Poinsette-Clark.
This entry was posted on Saturday, September 22nd, 2018 at 6:41 pm and is filed under Events. You can follow any responses to this entry through the RSS 2.0 feed. You can skip to the end and leave a response. Pinging is currently not allowed.