Daisies
Daisies are our youngest girl scouts.  They are kindergarten & 1st Graders.
For Leaders
There are a lot of great ideas and support in the girl scout community locally and on the internet  There are pages and pages of ideas to earn each petal as well as year-long plans that work with the Journeys below and the new binder is a plan in itself.  GSHH now offers lesson plans for every level  You can use it as a starting point, create your own plan,  use the Daisy binder and adapt the leader guides for each journey or find other ideas out there.  Let us know what works best for you and your troop so we can pass along different ideas.
Journeys
It's Your World – Change It – Welcome to the Flower Garden
Find the fun in gardening with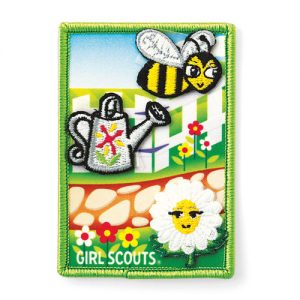 Amazing Daisy and the flower friends. You'll read an exciting story and learn all about making things grow!
It's Your Planet – Love It – Between Earth and Sky
You'll join your flower friends for a cross-country road trip in their  special flower-powered car! As you travel the country, you'll learn to use your own special skills to help people and Planet Earth.
It's Your Story – Tell It – 5 Flowers, 4 Stories, 3 Cheers for Animals!
Daisies learn just how much they can care for animals and for themselves—and just how good that makes them feel. The leader book breaks the journey into 10 sessions.
Birdbath Award – Daisies learn to care for animals and for themselves
Red Robin Award – Daisies use their new knowledge and creativity to teach others how to care for animals
Tula Award – Daisies gain courage and confidence in teaching others about animal care
We are very lucky in this area to have some very special resources available to us.  One is the Hudson Highlands Nature Museum.  Its "Meet the Animal" program every Saturday and Sunday at 2:30  fits perfectly with the suggested field trip for session 5.
Petals
Each petal represents one part of the law and each petal is represented by a Flower Friend whose personality relates to the law.  The Flower Friends are introduced in the first journey – It's Your World – Change It – Welcome to the Flower Garden and the new binder covers each petal/friend with her own story and 3 ways to explore the theme.
Below is a list of petals that can be earned through the Journeys (the first six suggestions are from the Girl Scout Daisy Journey Map). Or run through the binder and reinforce the ideas through the journeys. Mix and match as you see fit.
It's Your World — Change It! Welcome to the Daisy Flower Garden
Yellow Petal: Draw a picture of yourself being friendly and helpful.
Blue Petal: Find examples in your journey book that show how to be honest and fair.
Violet Petal: Make a card for a Girl Scout Daisy in another troop.
It's Your Planet — Love It! Between Earth and Sky
Rose Petal: When you clean up after your Daisy meeting, is there anything you can recycle, re-use or pass on to someone else?
Green Petal: Plan a book exchange so girls can trade books they've already read.
Orange Petal: Talk about littering and how it affects the environment.
The Hudson Highlands Nature Museum offers a workshop in the fall to  complete the Blue Bucket and Firefly Badges from the Earth and Sky Journey. See link below for more information – usually active closer to the event date:
Hudson Highlands Nature Museum Scout Programs
It's Your Story — Tell It! 5 Flowers, 4 Stories, 3 Cheers for Animals!

Light Green Petal: Considerate & Caring.  See if you can help a shelter or another animal center.
Magenta Petal: Respect Authority – Find out about the rules for animals in your area. Say why it's important to follow them.
Red Petal: Courageous and Strong The Red Robin Presentation gives the girls the opportunity to be courageous by performing in front of people and strong in their beliefs.
Purple Petal: Respect Yourself and Others. Talk about how respecting yourself also helps you respect others and how respecting others helps you respect yourself.
Girl Scout Songs
We Are Daisy Girl Scouts (to the tune of "I'm a Little Teapot")
We are Daisy Girl Scouts,
and we are neat.
Here are our hands and here are our feet.
When we get together, we all say
Let's have fun the Girl Scout Way!
We are Daisy Girl Scouts
dressed in blue.
I am a Girl Scout, you are too
When I go to meetings, I sing and shout!
I love being a Daisy Girl Scout!
Uniforms
See the Daisy Section on our Uniform Page
 click on above title to see