Leader Suggestions
Hudson Highlands Nature Museum offers special programs in the fall – check their schedule.
Shameless plug for a friend and good local resource – Lydia Adams Davis has a new CD out that works well with the Journey – 3 Cheers for Animals called One Earth So Green and Round.  You can hear song samples and learn interesting facts about the animals in the songs on the website OneEarthSoGreenAndRound.com  My troop also visited the Museum for their "Meet the Animal" session.  For our animal expert we used Cornwall Girl Scouts very own Elizabeth K – Quail Expert.  We also made donations to the Hudson Valley SPCA as part of caring for animals.
Robin Hastey Troop 48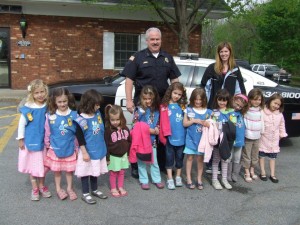 A tour of the local police station works well with Respect Authority.  Lilly's Purple Plastic Purse by Kevin Henkes also goes well with the magenta petal.
Main  Street Music & Art Studio can customize art classes to suit your troop's needs. We did 2 Brownie Painting Badge workshops  which the girls loved! Call 845-534-2812 for more information. [edited to remove outdated info]
The Goshen Harness Racing Museum offers tours and a patch program for scouts of all levels which are either $4 or $8 (depending on whether you want the tour only or more involved and individually tailored patch program). Leaders are free.  http://www.harnessmuseum.com/pages/Education/scoutprogram2.html
Caroline Yarton – Troop 48