Clara Barton
Clara Barton was born on Christmas day in 1821 in Oxford Massachusetts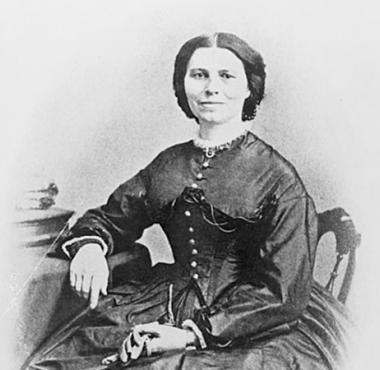 Her full name was Clarissa Harlowe Barton, but her family called her Clara She was the youngest of 5 children. Her father owned a farm and like all children, she was expected to help out. She milked cows, chopped wood, and took care of sick animals as well as helping her mother in the house. She was very shy. but she did well in school. When she was 11 years old, her brother fell off the roof and was severely injured. The doctor didn't think he would survive. Clara's job was to help take care of him. Partly because of her good care, he did survive and she learned that she liked taking care of people. When she was 17. she was offered a job teaching, but they said they wouldn't pay her as much as they would a man teacher. She thought that was very unfair and wouldn't take the job until they agreed to pay her the same amount as the man. She then went to college to get a teaching degree and opened a free public school. She had to work hard to get the school built, but eventually she had 600 students at her school.
She later moved to Washington D.C. when she got a job working at the U.S. patent office. She and the other women employees were not treated fairly by the men and the women were all fired. Clara fought for the rights for women got Abraham Lincoln on her side and got her job back. She was in Washington D.C. at the beginning of the Civil War and saw lots of wounded soldiers with not many people to take care of them. She and other women volunteered to help the soldiers by providing nursing care
Clara learned that they didn't have medical supplies close to the battlefield and she helped organize a way to get supplies closer to the front lines.
Later, she went to the battlefield doing what she could to help nurse the wounded men. She was so good at that she became known as the "Angel of the Battlefield". After the Civil War Clara traveled to Europe and she found out about an organization called the International Red Cross that helped wounded soldiers. She liked that idea very much and worked hard to start a Red Cross in the United States. It took four years of talking with politicians and government agencies, but on May 21, 1881. Clara Barton founded The American Red Cross and became its first president in 1881. Since then it has grown and helps people after disasters like fire, floods. earthquakes. and more. They also hold blood drives. run classes in First Aid. swimming programs, supply first responders to emergencies, and other services. Clara Barton lived to be 91 years old. She never married. She said her family were the soldiers she nursed during the Civil War. She died on April 12, 1912.
This entry was posted on Monday, July 29th, 2019 at 6:01 pm and is filed under Events. You can follow any responses to this entry through the RSS 2.0 feed. Both comments and pings are currently closed.